AR-15 for Home Defense
Posted by Mark Grimsley on October 27, 2020
Home defense is becoming a more significant point of conversation with current and new gun owners alike. Political polarization and the media fixating on an apparent growth of violence has caused more people to take their protection into their own hands. According to the FBI, from January through the end of September in 2020 was a record-breaking year with 28.8 million NICS background checks. While these numbers do not necessarily reflect the actual number of guns sold, it does show that millions are focusing more now than ever on their protection. However, the question of what should be used to defend one's home and family is always a top consideration. Is a shotgun better than a pistol? Is an AR-15 better than either? That question can only really be answered by the individual. However, the AR-15 has several home defense advantages over a shotgun and a pistol. Let's look at those advantages and the differences between an AR-15 rifle and pistol, should a light source be mounted and optics versus iron sights.
Home Defense Advantages of an AR-15
Arguably, the AR-15 is the most popular firearm sold in the United States today. Currently, the National Shooting Sports Foundation (NSSF) estimates there to be between 5-10 million AR-15s in circulation, with that number growing daily. With the influx of veterans returning home from Iraq and Afghanistan to the end of the Assault Weapons Ban (AWB), it is not hard to see why the numbers increase every year.
The first significant advantage of the AR-15 comes in its ease of use. Eugene Stoner took pride in the fact that the AR-15 was engineered to ensure anyone could efficiently utilize the controls and operate the firearm. Controls, such as magazine release and safety lever, are conveniently placed to allow the operator to use the index finger and thumb to manipulate both, respectively. Other controls, like the charging handle and bolt catch, are placed so that people with different body types can operate without too much issue. The detachable box magazine also makes for easy reloads and can be done by almost anyone with minimal training in how a firearm works. The AR-15 has also continued to be updated to keep pace with the consumer's needs like the adoption of ambidextrous controls, free-floating barrels and handguards, and swapping iron sights for optics.
Best Caliber for Home Defense
One advantage of the modular nature of the AR is the ease of caliber changes. ARs can be chambered in something as small as a .22lr or even larger calibers such as .458 SOCOM, 6.5 Grendel, or .50 Beowulf. The user-friendliness and selection of barrels and ammo make the AR-15 a better option than most shotguns. Due to its light recoil, nearly any family member can use it to defend a home, which can level the playing field if a weaker victim confronts a burglar. It also provides a more stable platform to protect yourself with than a handgun. An AR-15 allows four points of contact (left hand, right hand, cheek, and shoulder) to stabilize the weapon rather than the two points of contact (left hand & right hand) you will use with a handgun.
The most popular and standard chambering of the AR-15 is the 5.56x45mm NATO or .223 Remington cartridge. It is a high-velocity round with little felt recoil used by militaries worldwide due to its ability to perform. The bullet of the 5.56mm/.223REM cartridge can be found in several different grain weights that can either decrease the recoil even more or allow for specific home defense ammunition.
.300 Blackout ammo is the next most popular round used in an AR-15. It was initially developed for Special Forces to bridge the gap between the 5.56mm and 7.62 NATO rounds optimized for use with a silencer. One of the most significant advantages for this caliber is that it can come in various weights enabling it to be tuned for your specific barrel length and suppressor set up. Its versatility makes it the second most popular for home defense because you can quickly suppress it, and it has the potential knockdown power of lighter .30 caliber rounds.
Best Home Defense Ammo
Regardless of what caliber you choose for your AR-15, it is imperative to research the best home defense ammunition available to your weapon's chambering and what is legal for your jurisdiction. There are various offerings from some of the biggest names in munitions manufacturing. However, not all rounds are created equal. Here are a few recommendations.
For AR-15s chambered in 5.56mm, the most available ammunition will always be what the military uses. The XM-193 is a 55 grain projectile that is extensively used by NATO and the XM-855, which will have the 62 grain bullet. These are great rounds since they can be used for plinking at the range, training, or home defense with consistent results. Unfortunately, these rounds can be susceptible to over-penetration and may not be the best for home defense.
Two of the best rounds specifically designed for home defense will be Hornady's Critical Defense and Speer Gold Dot 55gr munitions. Hornady's Critical Defense is topped off with the FTX bullet that is identical to the technology they're renowned for in their pistol ammo. The Speer Gold Dot has a 55 grain soft point bullet that was designed specifically for law enforcement. These rounds will mushroom upon impact, which dumps most of its energy and prevents over-penetration while still maintaining accuracy.
Rifle vs. Carbine vs. Pistol Length ARs
The rabbit hole of online forums and YouTube videos discussing the different lengths of an AR will also find a heated debate about which AR length is best. Defining the differences of each will give you a better grasp as to their capabilities and limitations. This will also help you determine which will be right for you based on your needs and desires for an AR-15.
Does Size Matter?
As far as the AR-15 is concerned, the standard rifle-length will mirror the military version of the M-16 rifle. This rifle will have a barrel length of 20", a rifle length gas system and front sight gas block combination, and a fixed butt-stock. Not all rifle length AR-15s will be set up this way; however, that is its traditional configuration. This rifle's significant advantage is that the longer barrel will maximize the pressure and gun powder burn to extract the most velocity of the 5.56mm/.223REM cartridge. The longer gas system allows for a softer recoil as pressures diminish over the gas tube's length and an overall flatter shooting set up. This can be especially ideal for young, new, or inexperienced shooters.
The major disadvantage is the overall length of the rifle. The standard 20" barreled version will have an overall length of 39.5", which will be the longest version of the three we will discuss. The extended length may cause issues navigating around doorways and corners as you defend your home. Thus, most people will not consider this a good home defense weapon and relegate it to varmint or small game hunting. However, with some training and adapting its use, it still can be a practical rifle for home defense. The Marines use the M-16A4 as its primary weapon while deployed to Iraq and Afghanistan, where close quarter battles (CQB) were common. Yet, most would argue that it would not be their first choice.
Goldilocks of the AR World
The carbine length AR-15 will most closely resemble the M-4 pattern rifle of the U.S. military. The characteristics of a majority of carbines will have a 16" barrel and a six-position telescoping butt-stock. Its primary advantage is that it is a more compact rifle that will be a bit of a "do all" set up. The 16" barrel length will reduce the rifle's length while still providing excellent velocities for the 55 grain and 62 grain bullets. Also, the telescoping butt-stock will reduce the overall size to approximately 32.5," which allows it to be more maneuverable in CQB environments. The major disadvantage is still the overall length of the rifle. While it has a shorter overall length, some may still find it challenging to move around their home. However, this compromise is an excellent option for the person who wants an AR-15 to be used for home defense, hunting, or training. Truly a jack of all trades.
Shorter is Better?
The ATF defines an AR pistol as a firearm with an overall length of less than 26". Initially, the AR-15 pistol was heavily influenced by the famed MK-18 used extensively by Special Operations starting in the late 1990s and is still used today. Most AR pistols will have a barrel shorter than 14.5" and a stabilizing brace from manufacturers like SB Tactical. This is the AR pistol's most significant advantage. You will have the ability to customize an AR pistol to precisely what you need and get the overall length right where you want it. The versatility provides you with the ability to set up your gun to maneuver around your home without the concern of banging into door frames or corners. Most of the popular barrel lengths will be 10.5", 11.5", and 12.5"; however, some people have built shorter or longer pistols. Yet, this is also the pistol's major disadvantage. The shorter barrel length can cause the gun to have a fiercer recoil, a shorter maximum effective range due to the round's lower velocity, and more flash as the unspent powder is ignited after it leaves the muzzle; the fireball effect. These concerns can be fixed through product selection, such as flash hiders and braces, and training. That is why most people will choose the AR pistol as the best option for home defense.
Optics vs. Iron Sights
Regardless of which length of AR you choose, the following determination for your AR is whether you will use an optic such as a red dot sight or iron sights. Both can be employed with sound effects, but how do you decide which is right for you? Let's look at the differences of each to help you decide.
Optics Win Battles
It has been said that optics win battles, and that could very well be true! The advent of the red dot, holographic, and even low power variable optics has made the AR-15 a force multiplier without a doubt. Optics, especially red dot and holographic sights, has dramatically increased a shooter's ability to quickly find a target, place the dot or aiming reticle on the target, and place accurate rounds where they want them to go compared to iron sights. Having the ability to place a reticle on a target, compared to lining up two physical sights, has made shooting easier and more enjoyable for most. Besides, for high-stress situations, such as home defense, having a simple aiming point could be crucial in saving lives.
Optics and Murphy's Law
The most significant disadvantage of an optic is that most will run on batteries, and batteries will die. Murphy's Law states that the thing you need will fail when you need it the most. Truthfully, technology for many red dots on today's market will have a battery life of up to 50,000 hours. That is years of usage; however, you must remember to change the battery on time or be stuck without a point of aim. Albeit a rare occurrence, red dots and holographic sights also can lose their zero if mistreated. Losing their zero will be more prevalent in budget options, but again, Murphy's Law can and will come into play should your optic get bumped hard enough.
Iron Sights Are Forever
Once zeroed, the standard AR-15 rifle sights will rarely lose zero, which is its main advantage over optics since iron sights are basically "set it and forget it." Therefore, the military will always start teaching recruits Basic Rifle Marksmanship with iron sights before introducing any optic type. If the shooter does their part, iron sights are as consistent and accurate as the shooter can make it. Iron sights can also be bumped or knocked around with little to no impact on the rifle's zero. With training, a person can become just as proficient with irons as they can be with an optic.
Irons Fail Too
Iron sights will always be the most consistent sighting option available to the AR-15; however, they are not perfect. Having to align a rear and front sight can be challenging, and when stress is added, it can be nearly impossible. Training can vastly help one's ability to shoot quickly and accurately with iron sights, but you still have to align two objects with your eye. Low light scenarios also hinder your ability to find and align the iron sights, significantly impacting your accuracy and speed.
Therefore, for home defense, a red dot style optic would be the preferred setup. Yet, and it cannot be reiterated enough, you have to maintain your optic. It is good practice to verify your AR-15's zero at least every quarter if not monthly. And while most red dots have extended battery life, it is also good to change batteries annually. Most will set a calendar reminder to swap out their red dot batteries on New Year's Day along with their smoke detectors.
Let there be light, Tactical Lights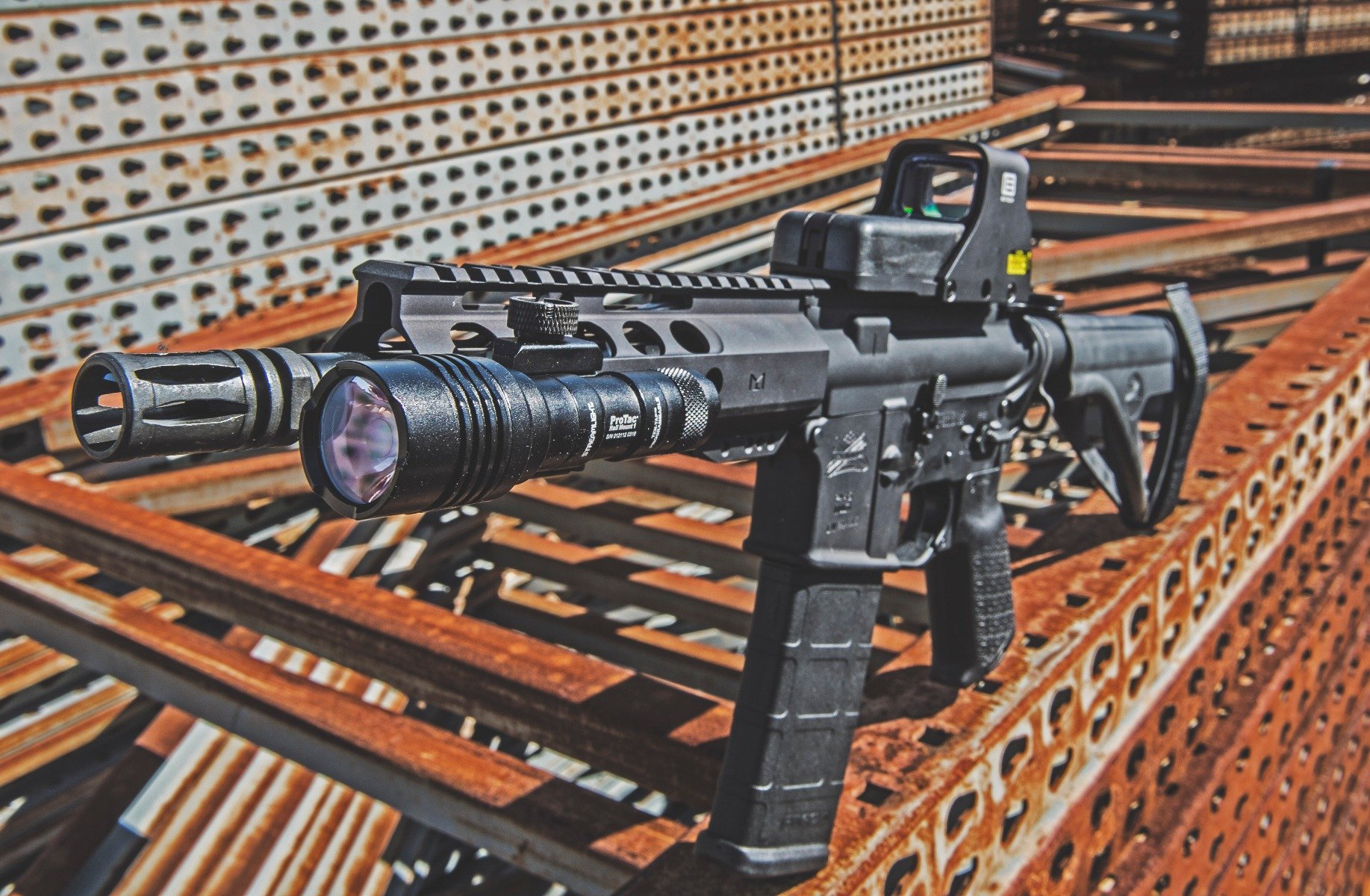 One of the best accessories to add to your AR-15 will be a light source such as a tactical light. Most of the lights available today will be lightweight, compact, and extremely bright. Many tactical lights will also be able to mount to MLOK or Picatinny sections making for easy installation. Also, it can be attached to either side of the AR-15, depending on your preference. Attaching lights to your AR is encouraged to help you identify a target before shooting, especially in low light situations such as home defense. However, many do not consider that a significant disadvantage is using a weapon-mounted light to search your home. Anything the light points at will also have the muzzle of the AR pointing at it as well. This will violate one of the four firearm safety rules as you may inadvertently point your firearm at a family member that is up late one night. Make sure to train and plan to mitigate this concern.
Final Recommendations
The AR pistol is the best home defense option because of its compact design and ease of use when maneuvering around corners and doors. Optics and lights attached to your firearm are also better options when setting up an AR-15 to defend your home. However, that does not mean that this is right for you! Specifically, defining what you need out of your AR will better help you decide what length of AR and attachments will work best. Once you have determined that, test it in your home to verify the results.
Finally, no matter what you decide to select as your home defense set up, get training. Good, quality training will help you better hone your home defense weapon; moreover, it will also give you the skills, plans, implementation of those plans and teach you what to do after you have successfully defended your home. Once you have the training and a plan set, rehearse, rehearse, rehearse. There is no doubt that a well thought out plan that has been practiced will defeat any situation. Stay safe, train hard!
Mark Grimsley is a former U.S. Army Officer that started his career as an enlisted Abrams crewman. He has served in 3 overseas tours that include Korea in 2002, Iraq in 2003 as a tank gunner and Afghanistan in 2010-11 as a logistics officer. He completed numerous military schools to include Air Assault and Airborne as well as over civilian firearms training. Mark enjoys spending time with his children, running a YouTube channel and working out.